Electronic Arts will be releasing a new game in their "Madden" series some time this year for the Playstation 2, Playstation 3, Xbox, Xbox 360, and an as of yet unnamed platform.
Project Manager Allan Greensworth had this to say about the new game in the Madden lineup:
Our new Madden game is going to be the best in the series to date, as it will include updated rosters, the ability to micromanage the entire league right down to details such as parking, concessions pricing, and fans. We have even included a fan editor in the game! You can also play as any NFL team to ever have existed, going all the way back to the league's creation in 1920. Additionally, we've secured licenses for the AFL (American Football League), the AAFC, NFL Europe, the SSFL, the MCFL, the Arena Football League, as well as teams from the other "football" (known over here in the US as "Soccer"), so you can see how the teams stack up. We've been busy getting motion capture from players, living and dead, in order to recreate the accuracy of these teams.
Of course, with every game, there's always some sort of a developmental snag; Greensworth told us this outright:
However, adding in all of this customization has come as a price - we have had to downgrade the quality of the graphics in order to fit all of this information in the game.
What follows is a screenshot of the newest Madden game: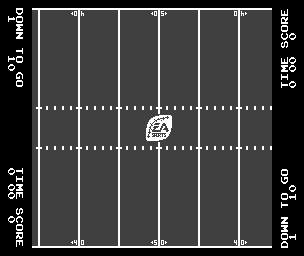 Greensworth remains adamant that this leap backwards in graphics technology will not hinder the latest Madden game, however:
I'm sure that all our fans around the world will recognize the sacrifices we have had to make in order to create the greatest football game ever made, past, present, or future.
Upon release of this news, EA stock (ERTS on NASDAQ) shot up 1% to $55.23.